Dust Extraction System
Principle of Operation
The airborne conyaminants will be filtered by a Nederman duplex modular filter unit. The central extraction fan will be placed after the filter unit to ensure the system is under negative pressure thereby allowing the particles to be removed prior to entering the fan. The fan discharge will exhaust via a silencer and ducting at atmosphere above the roof line or optional discharge back into the work place if acceptable.
Dust Extraction Fan
Fan: Centrifugal direct driven by a 2,900 RPM, 3-phase 415V motor
Capacity: 1,100Lt/sec against system resistance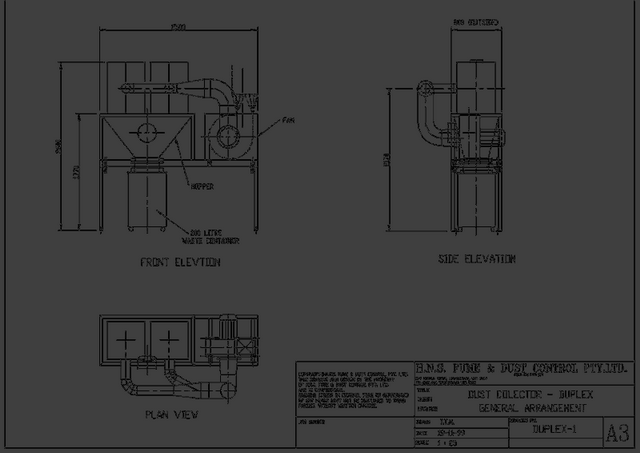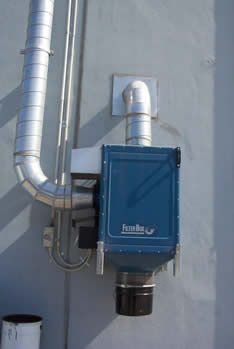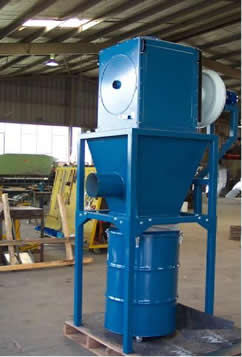 Nederman Duplex Filterbox
Type: Constructed from mild steel (painted) and designed to withstand a negative pressure drop of 9000 Pa.
The filterbox to consist of the following components:
Filter Cartridges: Changable, consisting of a pleated polyester material capable of withstanding high moisture content and capable to be flushed with water.
Surface Area Of Filter: 26 m2.
Efficiency: 99.8% when tested against test dust Ac fine (comprising 57% - 0 to 10 microns and 43% - 10 to 89 microns particles).
Filter Cleaning: Rotation of cartridge.
Cleaning motor: Gear driven to rotate the filter during cyclical cleaning operations. Separation plate mounted to prevent contaminants from coming into direct contact with the filter.
Rubber Pads: Mounted on the underside of the filter designed to bend the filter pleats on the cartridge during cleaning.
Dust Container: 200 litres, fitted with a viewing panel.
Stand: Painted steel.
Timer: Electronic to stop-start the fan during cleaning operations. The cleaning cycle set a 3 minutes and the fan is to restart automatically.
Control Box: To contain switch gear, transformer and timer. The filterbox is to be wired for 415V, 3-phase connection.